Jon Russell is the Southeast Asia editor at The Ken. In this interview, we discuss how he got started covering tech in his adopted home of Southeast Asia, why he joined The Ken to launch their Southeast Asia edition, how the region's tech ecosystem has evolved over the years (and where it's heading) and what makes Southeast Asia an attractive market for companies worldwide.
Getting started covering tech in Asia
When I moved to Thailand in 2008, I started doing some freelance work for a business magazine in Bangkok. I got the itch to write which led to me to start my own website. At the time, Facebook was becoming insanely popular in Southeast Asia with millions of people joining every week. I kept looking for someone who was covering this phenomenon but there wasn't anybody. So I ended up almost accidentally starting a blog and things went from there. I also started writing part time for publications. I wasn't earning much but it was more of a hobby for me.
After a short stint at a corporate job in Bangkok, one of the publications I was talking to made me an offer to join them on a full-time basis. It was The Next Web. My work started getting more attention. As a writer, you don't need a CV as your work kind of speaks for itself. There wasn't much coverage of Asia Tech so it was relatively easy for me to stand out. At one point, a lot of people started joining TechCrunch from The Next Web. I also got an offer from them and decided to join. I stayed there for five years where I led the Asia coverage.
Southeast Asia is a region where technology and startups have been growing a lot in the last decade. Five years ago, there wasn't really anybody covering these stories. I felt that it was interesting for me to try to fill that gap. But in the last few years, the regional scene reached a real high point and the amount of news coverage caught up. You now have publications such as the Wall Street Journal, the Financial Times and Bloomberg covering the region. While this is a positive development, a lot of the coverage remains surface level. There isn't enough coverage providing a deeper exploration of these topics.
We saw that Southeast Asia was an emerging market for technology but that it was underreported and that there was a need for coverage that focused on quality over quantity.
One of the companies who was doing that kind of coverage in India was The Ken. I had been a reader for a long time and had written a story about them when they raised funding. I knew the founding team and we've kept in touch over the years. They were trying to find somebody to write a story a week on Southeast Asia for them. They didn't have much luck despite me trying to help them find somebody. After spending a long time talking, we realised that some of the goals that we had were very similar. We saw that Southeast Asia was an emerging market for technology but that it was underreported and that there was a need for coverage that focused on quality over quantity. That conversation ended up with me joining The Ken in the summer of 2019.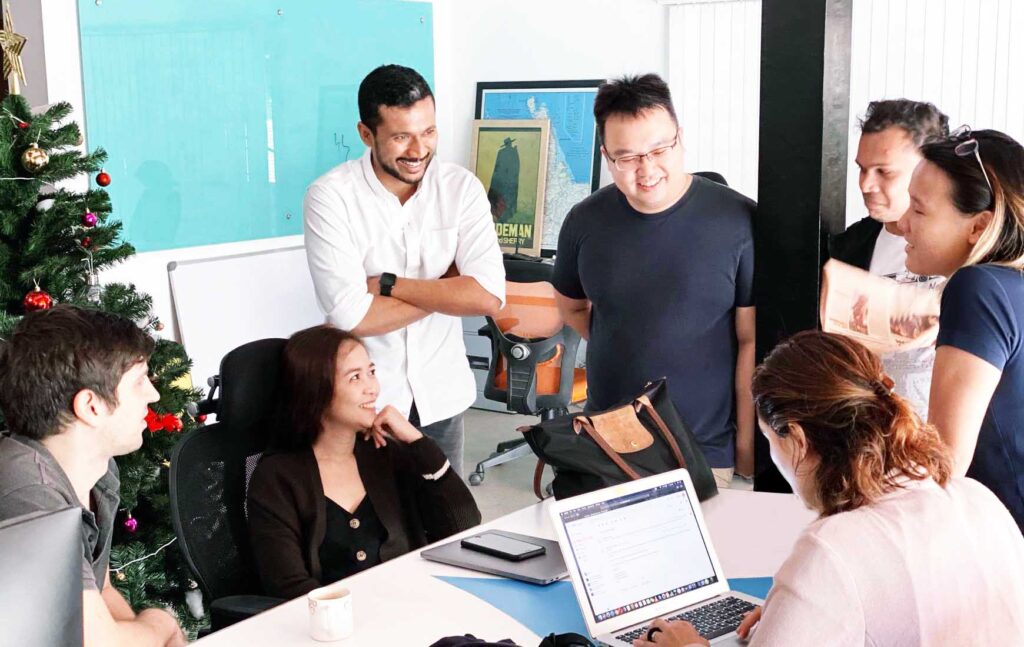 The ethos of The Ken Southeast Asia
Since its launch, The Ken has been very much about quality over quantity. We publish one story per day and our reporters tend to do two or three stories maximum a month. It is very different to other online media startups where reporters do two or three stories per day if not more.
At The Ken we work as a team. That includes working with designers who help us tell stories through charts and visuals. The whole ethos is very different to other media companies. I find the model that we have very interesting and exciting. I also find the company inspiring. When I joined we had 10k subscribers and now we have 30k. That's a pretty impressive growth and we can grow much much further.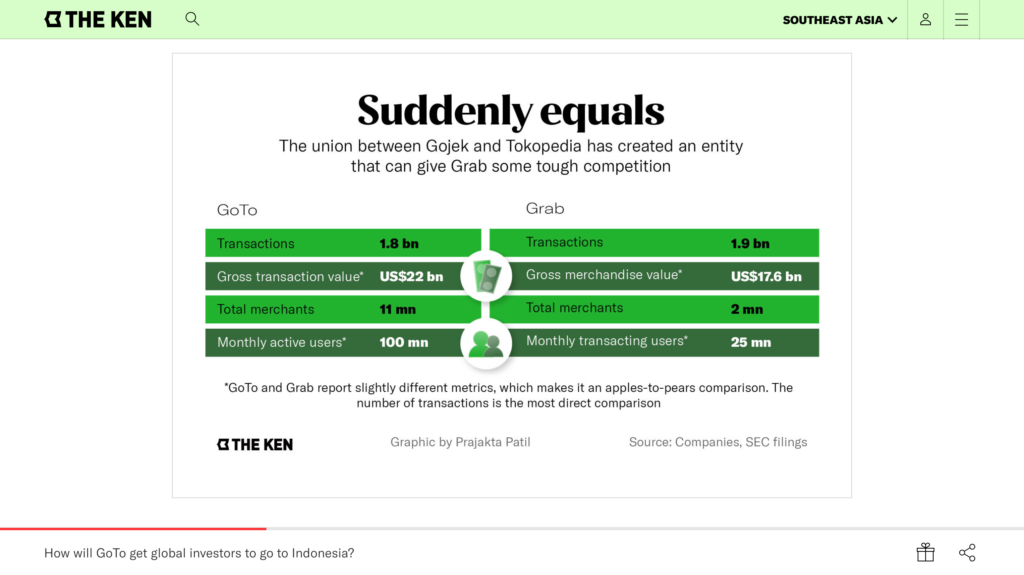 Especially now with the Southeast Asia region starting to take off. You've got SEA's stock price that keeps going up after their IPO in 2017. You've also got Grab going public in the US, Gojek and Tokopedia going for a merger, and more. These news are drawing attention from investors in the US. Suddenly there is the realisation that the world's largest SPAC is not coming from the US or China. And not even India. But from Southeast Asia. People are starting to watch what is going on in this part of the world. It's a validation for anyone who's ever lived in the region and knows that technology is becoming a big part of everyone's daily routine and that the potential to grow businesses here is huge.
There's always been a need for deeper reporting of these companies in the region. It's clear from the interest that's pouring in that this is a region that is underreported and that there is a lack of more qualitative stories. I think that we've done good work but I also think we can do much better work too. We're still at day one.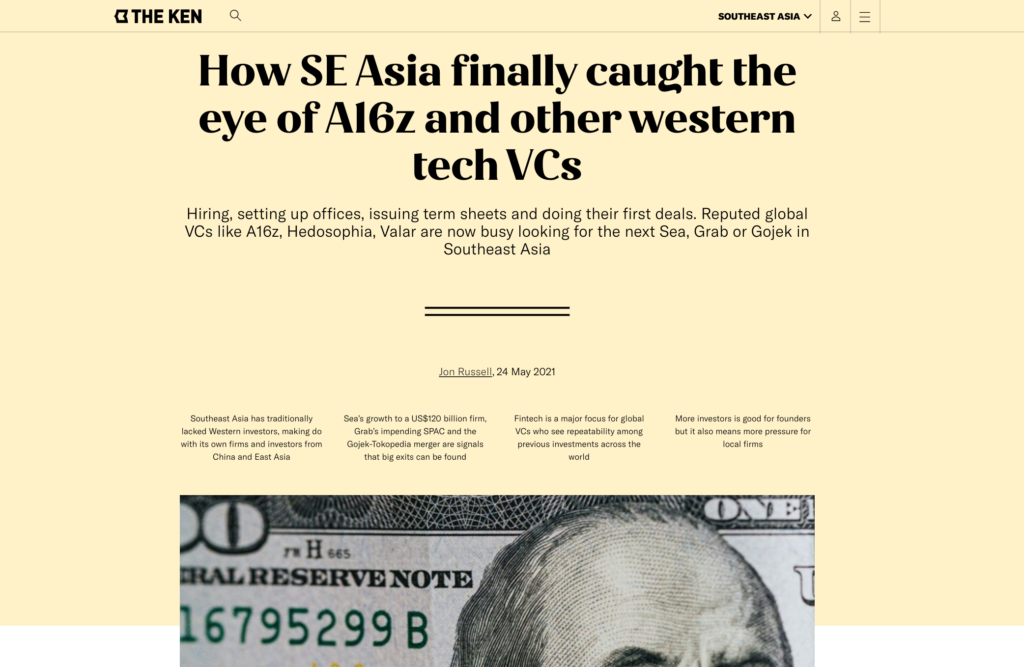 We also want to cover broader business stories in Southeast Asia. Especially this year, we've been doing stories outside of the startup and tech prism. For example, we've written a piece on beauty brands. We've got quite a few more of these lined up. Tech and startups aren't the only areas of business. Focusing just on these is not interesting. We also try to be accessible and write every story so that anybody can understand even if they've never heard of the company that is featured in the story. It doesn't matter where they're based and what they know already.
We want our audience to be interested, excited and curious every day. If we start becoming predictable, why is someone going to pay to read us?
Also, we don't want to write analyst stories that are very broad. We write actual stories. Our job is to make everything into a story that is hopefully interesting, educational and insightful. We've been able to expand from an audience mostly composed of tech people to a broader one by doing just that. We want our audience to be interested, excited and curious every day. If we start becoming predictable, why is someone going to pay to read us? Even our writers are going to get bored. So we try to figure out topics and ways of telling stories that keep things fresh and interesting.
Changes in Southeast Asia over the last 10 years
There have been so many changes. Ten years is a long time. Especially in this part of the world where things can change in a matter of days.
I think that the IPOs that are happening now are really interesting. Because in order to have an ecosystem you need to have exits. If you look at Silicon Valley for example, the funding often comes from people who made money from being early hires or investors at companies like Facebook or Google. We will start to see it here in the region too with exits of companies like Grab and Gojek although it might take some time. Early employees from these companies are going to make a lot of money from the IPOs which they are likely going to use to angel invest or start a fund. It's a different type of investors than what we have now where few have run companies but instead tend to have a finance background. We're already starting to see that and it's with this type of investors that you start to build an ecosystem.
Another thing I find interesting is payments. Cash has always been king in this part of the world. That's how people would pay for most things. But now, in countries like Indonesia, people are increasingly adopting online payments. They got familiar with paying with their smartphones for services like Grab, Gojek and Tokopedia. Local companies and local solutions led to people developing new habits. Making it easy for a population to pay with their smartphones is a huge thing. If you look at China as an example, the growth of WeChat Pay and Alipay provided opportunities for new businesses that didn't exist before. I think that the wallets and mobile payment systems in Southeast Asia will be a big catalyst for companies to build new types of services. Not just around transport, but in other areas that will ride off the progress that is being made in payments.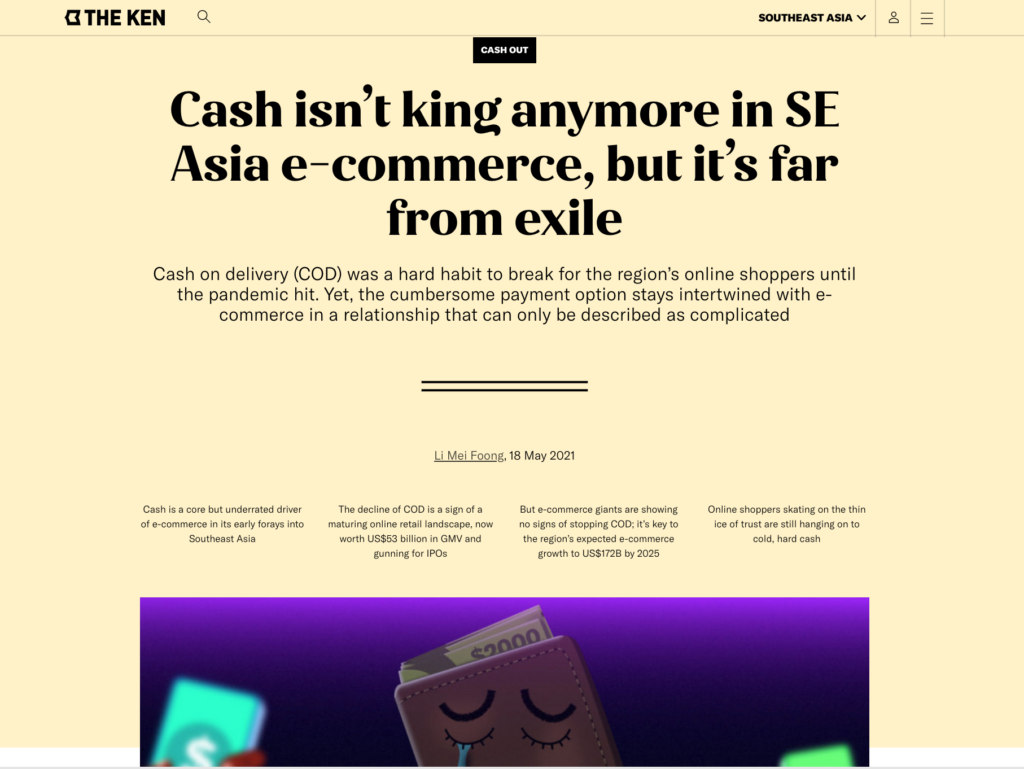 Why Southeast Asia is an attractive market
It's a good question and obviously it's going to vary based on the company. If you're a US tech company looking at Asia for example, China might be a very tough place for you to go to and India is already a mature market in terms of digital services. But in Southeast Asia, the competition for these services is much lower. Another attraction is obviously the massive population of over 655 million people.
But there are still many challenges when it comes to operating in the region. It's a very diverse region. You've got different languages, cultures, systems and regulations across the countries. But, it still remains a huge opportunity as consumer habits are maturing. A lot of the fundamental infrastructure that didn't exist is being patched.
Let's take the example of Stripe. They seem to be doubling down on Southeast Asia by going beyond Singapore into places like the Philippines, Thailand and Indonesia. They are doing it on a country by country basis because that's what makes sense for them. It is one of the biggest companies in their space and the fact that they are focusing so much on the region means that they must be seeing opportunities for growth.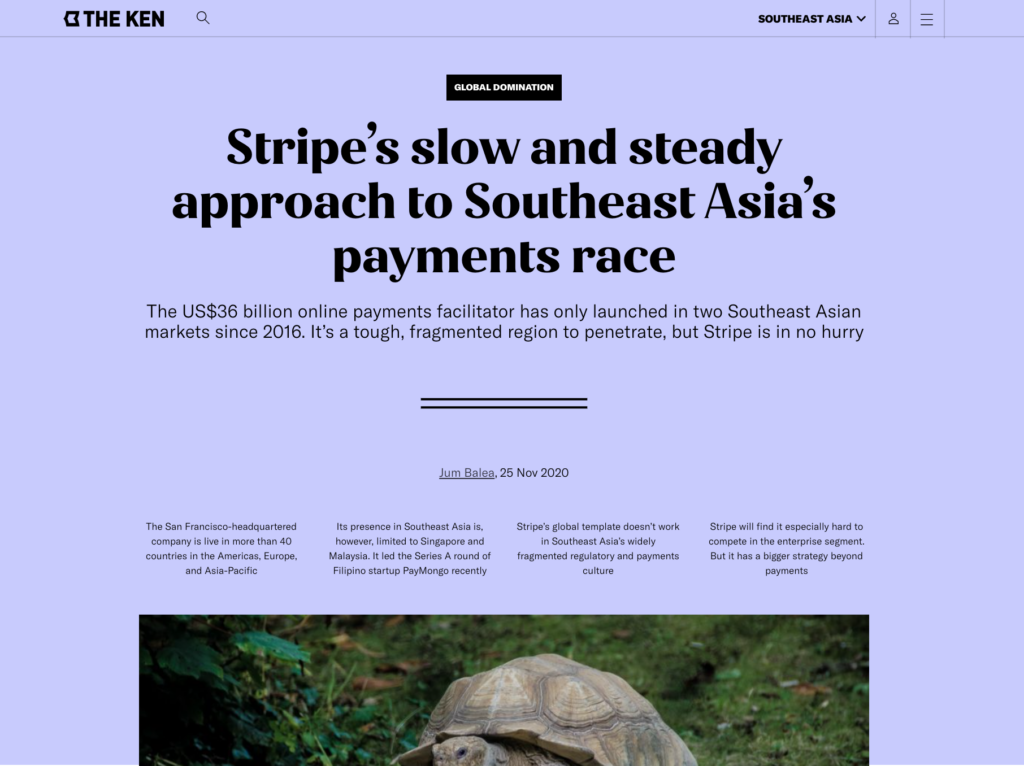 For Indian companies looking at expanding to Southeast Asia, it's a little different. The founders of these companies tend to see commonalities between markets in Southeast Asia and some parts of India. But it's actually harder than it looks. Not that many companies who have succeeded in India saw the same success here. Meesho for example went to Indonesia a couple of years ago but recently pulled out. They couldn't quite figure out how to bring what they did in India to that market even though there was a huge amount of potential. But I think we are going to see more companies trying and eventually succeeding.
What's next for Southeast Asia's tech ecosystem
I'm excited about how people are using technology on a daily basis compared to before. It creates a whole lot of opportunities. Overall, I'm optimistic but I'm also aware of the potential downsides.
I think that FinTech is going to be huge in the next five to ten years. There's lots of ambition from companies and investors. If you're following the money and the news, everyone is doing FinTech. There's been a lot of progress in certain areas like peer-to-peer loans and there's a lot more that can be done. But it's not all going to sunshine and roses. Not every startup is going to be successful. Most of them will eventually fail. If you're into FinTech, the responsibilities that you have towards your users is much higher. There's going to be stories, and there have been already, of companies that face problems and go bust while users have money in them.
I also think that the influx of investors is going to change the region because it will be much easier to raise money as a founder. Having more money in the region is great but it comes with some downsides too. There will be some wackier companies being founded. I'm always wary of the downsides because startups are not perfect and the VC-funded model with companies needing to grow every year to get funding again can lead to some issues.
But in general I am very bullish. This is a great part of the world. There are amazing places in the region for people to live in and it's also a great region in terms of tech.
Thanks to Jon for answering my questions. You can find him on LinkedIn and Twitter. You can find out more about his work by checking out The Ken and subscribing to his personal newsletter Asia Tech Review.