Puma is the number one sportswear brand in India. Ahead of competitors that include Nike, Adidas and Reebok. The case study dives into how the German brand achieved this level of success through their ability to identify trends and their capacity to reach and connect with their audience effectively.
Puma entered the Indian market in 2006. They were the last among competitors like Nike and Adidas to enter the market. But in 2015, Puma became the No.1 sportswear brand in India, surpassing all the other global brands.
India was the only market globally where the brand was ahead of Nike and Adidas. Their success over the years came from their capacity to identify trends in the market.
Identifying trends
Trend 1 – The lifestyle changes happening in the country
With increased health concerns, Indians started taking more interest in sports. It created a growing demand for sportswear as fitness became more integrated into their lives.
Trend 2 – More women getting into sports
An increasing percentage of women started attending their running events in India. They also took to other activities such as callisthenics, pilates & Zumba. Growth in the women's category has been higher than in the men's category.
Trend 3 – The rise of 'athleisure'
Athleisure is defined as casual clothing designed to be worn both for exercising and for general use. People started wearing sportswear at the office, in malls, in planes etc. It became an integral part of their lifestyle.
Trend 4 – The popularity of streetwear reaching India
The sneaker culture developed as people started buying, collecting and exchanging sneakers while posting about it on social media. This led to a boost in their sales of sneakers.
Puma capitalised on this trend with their RS line. Despite the high price-point of these sneakers, they were a hit among consumers in India who are usually known to be value-conscious. They also initiated associations and partnerships with sneakerheads.
Reaching and connecting with customers
Puma combines an ability to spot trends with a capacity to connect with their target audience. They are able to find the right channels to reach them and the right messaging that will resonate with them.
Puma's main target audiences are Millennials & Gen Z. Puma adopted a digital-first approach which is a more cost-effective way of reaching them. They are moving away their marketing spend from tradition advertising to spending ~90% of their budget on digital.
Puma adopts a multi-channel approach to reach their customers. They sell their products on their own website, in their stores, on e-commerce platforms, in multi-brand stores etc.
The focus remains on driving more sales through their own online store (puma.com). It is a preferred choice by brands as they have more control over the experience of visitors, can collect more data and avoid commissions fees.
To boost sales on their own e-commerce store, Puma sells exclusive products not found elsewhere.
Puma also leverages on the popularity of other e-commerce platforms. They sell on sites like Flipkart and Myntra which are both widely used in India. They are present wherever Indians shop online without becoming too reliant on any external platform.
Puma's messaging resonates with Indians. That is because of localisation. While they may be an international brand, their campaigns are localised which makes them more relatable. Here's an example with their campaign 'Suede Gully'.
Localisation extends to their products as well. They created flipflops and open sandals exclusively for the Indian market. They sell over 5 million pairs every year. Here's the search for 'sandals' in their US store (left) and India store (right)
But Puma's biggest strength is celebrity branding. It's a tactic that's particularly effective in Asia and especially in India. It's a great way to inspire consumers and gain credibility.
In India, the celebrities are actors/actresses from Bollywood movies and cricket players from the national team. Their reach in the country is unparalleled. People across all strata of society look up to them. They are the celebrities who Puma partners with.
Let's take the example of Bollywood. Puma has partnered with big stars such as Kareena Kapoor and Jacquline Fernandez. And more recently, the new joiner in the industry Sara Ali Khan. On Instagram alone, that's a reach of over 80M
Puma has also partnered with many cricket players. The brand has had players from Team India such as Yuvraj Singh among their ambassadors. But their more recent partnership with Virat Kohli has been one of their most successful globally.
Virat Kohli is the captain of the Indian cricket team. He is a superstar in the country. It doesn't get bigger than that.
The partnership with Virat Kohli was not 'simple' celebrity branding. Virat Kohli launched his own brand called One8 in collaboration with Puma. It reported sales of $15 million in its first year. It is growing rapidly and accounted for a 10% rise in Puma India sales in 2019.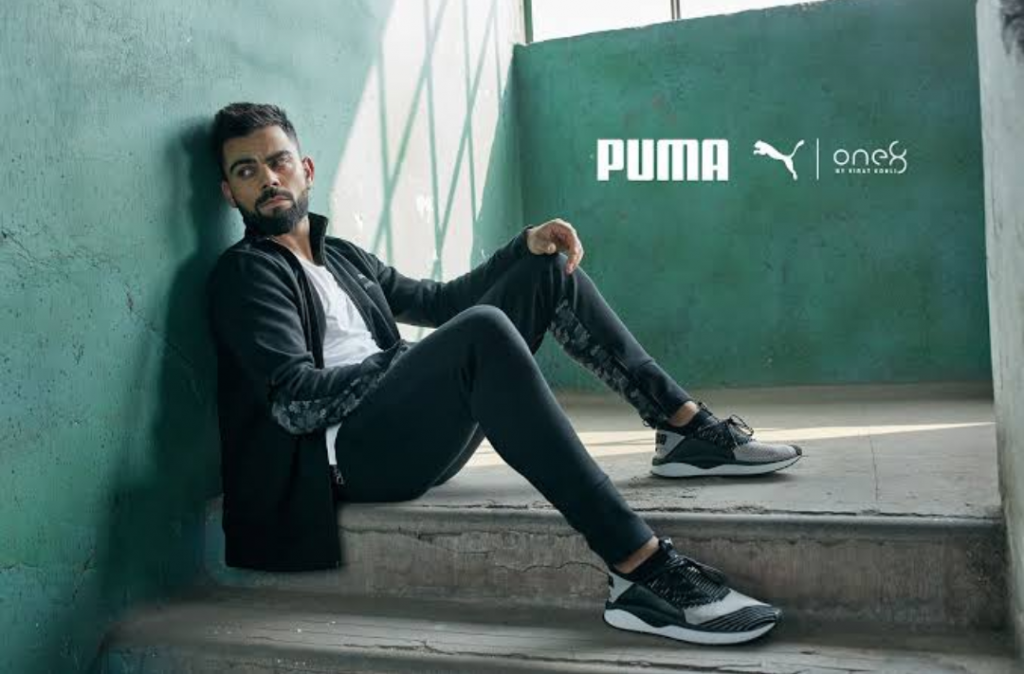 Puma is a textbook example of how a brand can leverage on celebrity branding in India. They're able to convince the biggest stars to join them, they're able to spot the up-and-coming ones, and they have a finger on the pulse to identify those shaping the culture.
That's how Puma was able to become the leading sportswear brand in India. Through their ability to identify trends and their capacity to reach and connect with their audience effectively.
As a next step, they will be looking at extending their popularity outside of Tier 1 cities such as Mumbai & Delhi. They will reach out more aggressively to new consumers in Tier 2,3 cities to consolidate their place as a leader in the market.
Sources: Harvard Business Review, The Drum, Times of India, Puma, The Economic Times, Apparel Resources, Best Media Info, The Hindu, Brand Equity